Obviously the welfare of your child is our NUMBER ONE priority, and as such we take the utmost care to ensure that we have everything in place to guarantee this.
All of our coaches are DBS checked and certified, whilst also maintaining a minimum requirement of having undertaken the FAW Football Leaders course.
As such all coaches will have FAW Safeguarding identification cards, which will appear in a format similar to the images below…..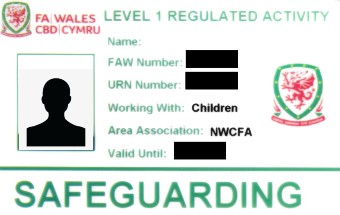 Our club welfare officer, Gwyn Thomas, can be contacted at any time should you have any concerns as per our Contact Page
As a club we are totally committed to following the very highest of standards at all times.