What we Do…
Here at Penrhyn Bay Girls & Womens' Football Club, we pride ourselves on providing a safe and friendly environment for girls and ladies of all abilities to participate in the beautiful game.
With a team of fully qualified, and award winning, coaches who are dedicated to making the most of your footballing talent, improving your fitness and, most of all, having fun, we welcome you with open arms to our girls football club.
Based on the North Wales coast, situated between the towns of Llandudno and Colwyn Bay, we are able to offer first class training facilities which aid in the development of our girls' footballing skills, whilst benefitting from a wide catchment area for recruitment.
The girls at Penrhyn Bay train on a weekly basis, whilst we also provide competitive football on weekends, with teams competing in local leagues in several age groups from Under-8s right through to our Ladies' side. We have recently had occasions where over 100 girls have been training on the same evening, and also seen some of our girls being selected into the Welsh international set-up.
As a football club we are totally committed to the development of girls football in Wales, through providing the very highest standards of coaching at all times.
FAW Qualified Coaches

Weekly Training Sessions

FAW Huddle accredited provider

Competitive teams in many age groups
Here at Penrhyn Bay Girls & Womens' Football Club, we have a number of teams, competing in various age groups.  With the significant aid of our fully qualified coaches, our teams are constantly improving and are starting to reap a great amount of success, in the ever-growing world of girls football.  Last year our Under 16s Girls team won the Welsh Cup, defeating Newport-based Villa Dino girls in a thrilling final.
Penrhyn Bay Ladies compete in the North Wales Womens League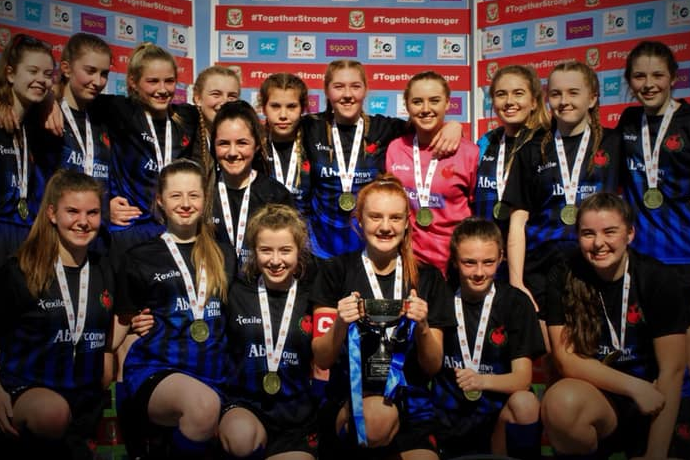 Penrhyn Bay girls under 16s FAW Girls' Welsh Cup Champions 2019
Penrhyn Bay girls under 14s League Champions 2018/9
See more details on all of our teams here……….
Under 16s Welsh Cup Winners 2019!
April 7, 2019 is a date that will forever be etched into the history of our young club, as Penrhyn Bay Girls' Under 16s lifted The Welsh Cup, defeating Newport-based Villa Dino in an enthralling final, played at Aberystwyth Town Football Club.  Read More…..
Due to the current outbreak of Coronavirus there will be no football, either matches or training, for the foreseeable future.  Read More
We held our annual presentation night recently at Llandudno Rugby Club, and a great night was had by all, as we celebrated success and progression throughout the age groups ….Read More