Our History
Penrhyn Bay Girls & Womens' Football Club was founded in the summer of 2017, as girls' football in the town of Llandudno continued to grow at an exponential rate.
In the words of club founder Gareth Rawling…..
It became apparent in 2017 that due to the volume of girls attending training sessions, the number of fixtures the Girls club had to manage and the amount of pitch time we required….that we found ourselves competing and at times in conflict with the boys section, of Llandudno FC, in relation to pitch space and time, whilst at the same time having to rightly accept that the boys section had been established long before our girls section.
The philosophy of the girls section is, and always will be, to progress the profile of girls / women's football while at the same time providing a safe and supportive environment for the girls to develop their individual skills. With this in mind we had to be mindful of the fact that we did not create a situation in which the girls were disadvantaged due to us not being able to source the pitch time they required to fulfil their league and cup fixtures, and perhaps accept the fact that the girls section had become too large now to share the excellent training and playing facilities of Llandudno Football Club.
After careful consideration we decided to move the Girls section to Penrhyn Bay.
We have since become able to use the training and playing facilities of Llandrillo College and Ysgol Creuddyn.  This move relieved the pressure in relation to sourcing additional training and playing time for the girls.  It was acknowledged that such a move would be bold and initially might not sit comfortably with everyone, however the girls best interests always remained the main priority.

Thankfully over time the move appears to have been a successful one, as our club grows and grows week by week.
Within a very short space of time Penrhyn Bay Girls & Womens FC have tasted success the highest level.  Through the incredible hard work and commitment of players, management and staff at the club our Girls Under 16s side were crowned FAW Welsh Cup Winners in May 2019, beating Villa Dino Christchurch 3-2 in the final at Aberystwyth FC.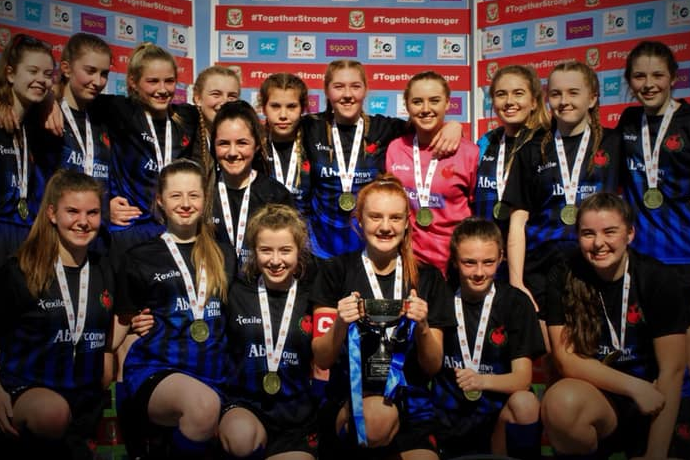 This highly memorable day, as well as providing everlasting memories for those involved, would attract a great deal of media attention for the club, with appearances on ITV Wales News as well as features in national womens' football publications and regional sports and news outlets.
It is our hope and aim that this success was just a building block for continued success for the club, as participation in all age groups  continues to grow.
We will continue to champion the success of our teams, and more details can be found on our honours page, which we hope over time will grow to provide a very impressive list of achievements at all levels.
In addition to onfield success, our main aim, as a club, is to build a legacy for children and women of all ages to partake in and enjoy the beautiful game.  This does not only encompass sport in itself, but also on building links within the community, promoting values of fair play and respect, and emotional and physical wellbeing.
Within this site you can find examples of ways in which the club has worked with and for the local community.  We have also already been approved as an official provider of FAW HUDDLE sessions, set up to encourage youngsters at all levels to get involved and have fun.   More details on participation can be found on the relevant page here…
Should you, or any of your friends or family, have any interest in getting involved with Penrhyn Bay Girls & Womens FC we would love to hear from you.
Please feel free to send us a message from our contact page, and to check out some of our other information pages…..